-
Mission and Values of Ravelast Oy
We protect our customers' products, processes and equipment against wearing, load, chemicals and shocks - sustainably and cost-effectively.
We want to do our part to help our customers succeed. Our goal is to be the most preferred and reliable partner as a supplier of elastomer products and services. Mutual trust is our most important value. We also value intrapreunership and thus operate effectively with highly self-directed and experienced teams. Our strategy is to strive for long-term profitable growth through sustainable development, continuous renewal and responsible behaviour.
Organization of Ravelast Polymers
Ravelast Polymers is divided into two product areas: rubber elastomers and polyurethane elastomers. We have operations in four different units: polyurethane products are manufactured in Oulu and Kiruna, and rubber products are manufactured in Hyvinkää and Nokia.
Nokia unit is further specialised in coating rotating parts. In Hyvinkää we produce longer rubber mold series as well as fabricated rubber products. There we also have our mold workshop, rubber mix manufacturing and laboratory. Additionally we are investing heavily in R&D in cooperation with leading material suppliers, universities and laboratories.
Our company has decades of experience of polymer products. We have been growing through mergers and acquisitions during the years but also through organizational growth. More information can be found in below sections.
Ravelast Oy Oulu - Headquarters and polyurathane production
The company is a polyurethane manufacturer established in 1985. Ravelast has due to its reliability become a significant player in the business area in Finland. Manufacturing methods are hot and rotational casting and spraying.
Ravelast Oulu manufactures polyurethane products according to customers' wishes using the best raw materials from different suppliers. Manufacturing covers polyurethane products ranging within 30 - 97 ShA and 55 - 85 ShD hardnesses.
Head quarters of Ravelast Polymers are located in Oulu.
Ravelast Oy Nokia - Rubber roll coating and recovery service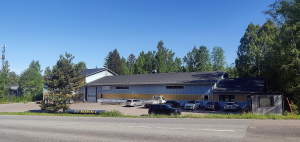 Ravelast Nokia unit is former Oy Euroroll Ab. It in turn was formed of two different companies, of 2008 established Finroll Oy and of 1986 established Oy Euroroll Ab. Operations of the companies were merged in 2012 to Ravelast Oy.
Ravelast Nokia manufactures rubber products according to customers' wishes using the best raw materials from different suppliers. Production method is hot curing in autoclaves.
Main focus areas are the rubber coatings of industry rolls, reels and other rotating parts, and specialties are roll grooving, grinding and other repair services.
Ravelast Oy Hyvinkää - Rubber products and laboratory
Hyvinkää unit is formerly known as Polymer Components Finland Oy, which has previously operated under the business names Hyvinkään Kumi Oy and Marwe Oy. Hyvinkää unit has been an influential figure in this field since 1926 and Ravelast Oy acquired the technical rubber production unit from Marwe Oy in 2018. The company's original main range of products includes molded rubber products, as well as injection molded plastic products.
We have also moved the Ravelast Vantaa operations to Hyvinkää in summer 2018. Vantaa Rubber Technology was established in 1985 to produce technical rubber products and it was aquired by Ravelast Oy in 2010. Production methods are hot curing in autoclaves as well as in presses, and cold glueing.
Today Hyvinkää unit has four main product lines: molded rubber product series, silicone product series, injection molded plastic product series and rubber fabrication line for single to small series of larger size. In Hyvinkää we also have rubber mix manufacturing, mold workshop and laboratory.
SOKAB, Kiruna Sweden - PU roll coating and recovery service
SOKAB is Kiruna based company, which has also over 30 years' experience in manufacturing polyurethane products for most demanding conditions in different industry areas.
Since 2016 SOKAB has been subsidiary of Ravelast Oy.
Manufacturing covers polyurethane products ranging within 30 - 97 ShA and 55 - 85 ShD hardnesses. SOKAB offers also roll bearing maintenance.